Sphinx (Beast)
Location(s): Tomb of Anubis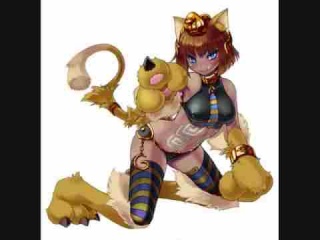 A playful cat woman that serves as one of the guards for Anubis. Though she would rather relax than fight, she will lay her life on the line for her master.
HP: 1200
STR: 140
DEF: 90
MAG: 180
MAG.D: 90
Drops: 800 exp, 2500 gp, TBA
Weakness: Fire x2, Dark x2, Water x2
Resistance: Light 1/2
Immune: Petrify, Blind, Paralyze,
Attacks
TBA
-
Cleopatra (Beast)
Location(s): Tomb of Anubis
A stern jackal woman and one of the guards for Anubis. She is strict, usually seen scolding the Sphinx for her laid back nature. She will do anything for her master.
HP: 1200
STR: 180
DEF: 90
MAG: 140
MAG.D: 90
Drops: 800 exp, 2500 gp, TBA
Weakness: Fire x2, Light x2, Water x2
Resistance: Dark 1/2
Immune: Petrify, Blind, Paralyze,
Attacks
TBA